The Swamp is a biome in EvoWorld.io that is located west in the map.
Food
Ground
Underground
See Graveyard and Pit of Fire.
Description
The swamp biome is a pool of mud with nothing at all. Two crocodiles spawn along the swamp, each guarding its side. In each side, there is a Dead Fish and some Frogs.
The Underground is a tunnel labyrinth, full of mice and some bread, where a zombie guarding the only water in this Biome is connected at the West side with a tunnel guarded by the Fire of Death (which leads to the Pit of Fire) in the East. Unless you are a Stone Eater, a Demonic Imp, a Phoenix, a Cosmic Angry Eye/Cosmic Bat or you are already above the Ghost, avoid touching the zombie (in the case of the Ghost, eating it will trigger your transformation into the Ghostly Reaper). Unless you want to die, you are above the Ghost, or you are immortal, avoid any exposure to the Fire of Death.
Tips & Tricks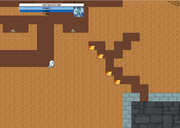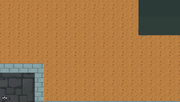 Community content is available under
CC-BY-SA
unless otherwise noted.