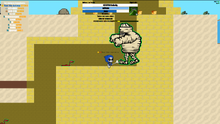 Hi, <insert name here>...
Well I'm Tardisfromtornspace.
My favourite animals are the Cosmic Bug and the Cosmic Big Eye, because they live in space and they are not agressive. I also like the Ghost because it can phase through players and it's immortal (and basically thanks to that it could be used to free several Entities). And Cosmic Angry Eye is so cute! Right now I'm starting to like the Grim Reaper because of the Bony Reaper sprite, based on a Sans sprite made by me.
Now against the Ghostly Angel, I have a favourite: Ghostly Reaper (since it's smaller it can bypass the boss and enter narrow caves easier, even with the reduced damage and range compared with the other Reapers; and because that way I can fulfill my objective of reaching Grim Reaper without killing any player). After that, the best option for me is the Grim Reaper.
There's a bug I started to like: the underground fish, mainly because it seems absurd, it's not harmful and the dev was unable to fix it, until very recently.
Now I think I've discovered what was harming the Cosmic plants: in the update before the Phoenix, a dragon evolving into a cosmic Bug and one of its fireballs touching the Cosmic Plant could harm it.
I haven't found the reason why some sharks were able to teleport from the Arctic Ocean to the Desert Ocean and being damaged by something while being unreachable by the reapers.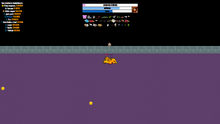 Currently I'm investigating in a way to get outside the server. Cinere and I have proven that the Server Barrier is far from impervious and unbreachable (if we push ourselves outside), albeit it's difficult to stay outside without the server forcing a respawn (at full xp fortunately). However, tests with dungs and small entities are promising, showing that maybe a small enough entity could bypass the barrier without triggering any respawn, as long as the player remained still. The most promising recorded test at the moment is the Ice Castle teleport, by S4PRICON.
I hate people that just troll others (like drowning a Demonic Imp in lava by staying above it while it was drinking lava).
That's all :)
My favorite pages
Community content is available under
CC-BY-SA
unless otherwise noted.